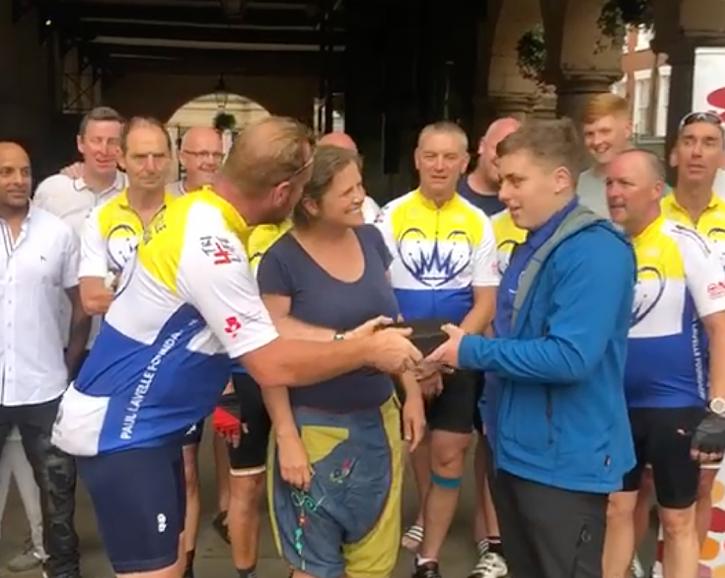 Land's End to John O'Groats
Posted on: Mon 5th August, 2019
29 riders are cycling from Lands' End to John O`Groats with a mission to raise awareness around domestic abuse. We've been checking the riders progress on social media since Friday (02/08/19) and yesterday was our chance to play a small part in this mammoth 9 day event as they visit organisations like ours. 
The Paul Lavelle Foundation was set up by a group of friends and family in the name of Paul Lavelle. Paul was murdered in an act of violence by his girlfriend. During the court case it became apparent that Paul had suffered in silence from domestic abuse and that there was a lack of awareness amongst males suffering in the same situation. The friends and family of Paul recognised that this needs to change and thus the charity was born.
Starting on August the 2nd The Paul Lavelle Foundation embarked on the task of riding from Lands' End to John O`Groats. During the ride the team are presenting each town/area they stop at with a plaque of remembrance and friendship. 
On Sunday (4/08/19) the team at the Shropshire Domestic Abuse Service were proud to accept one of these plaques. Marina from the SDAS service adding that domestic abuse is;
"A community injury that happens every time a relationship goes really unhealthy". 
The whole team here at SDAS would like to thank the riders and charity who invited us to take part yesterday. 556 miles to go and you're going to smash it!
| | | |
| --- | --- | --- |
| Male domestic abuse | For more about our male domestic abuse services in Shropshire  | Click Here |
| Female domestic abuse | For more about our female domestic abuse services in Shropshire | Click here |
To support the team of riders and to see more about the Paul Lavelle Foundation and access their resources click here.
To view the teams ride and updates on Facebook, click here.