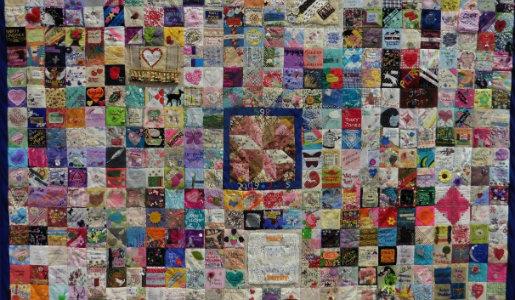 The Women's Quilt is coming to Telford
Posted on: Fri 19th October, 2018
On Saturday 27th October and Sunday 28th October The Women's Quilt is coming to the White Ribbon town of Telford. 
The quilt was launched in 2017 and has since been on tour round the UK. The handmade quilt was made to to remember women who were killed by their partners or ex-partners, it is made up of 598 patches, one patch for each women who was tragically killed by a current or former partner in the UK between 2009 and 2015; approximately two women a week. 
'The Women's Quilt' was the idea of Cllr Roxanne Ellis, a borough councillor from Gedling in Nottinghamshire who brought it to Parliament on International Women's Day to raise awareness of domestic abuse. 
The quilt will be on display in Southwater 1 on Saturday 27 October (10am-5pm) and Sunday 28 October (11am-4pm).
For more information about The Women's Quilt, please visit https://thewomensquilt.wordpress.com/